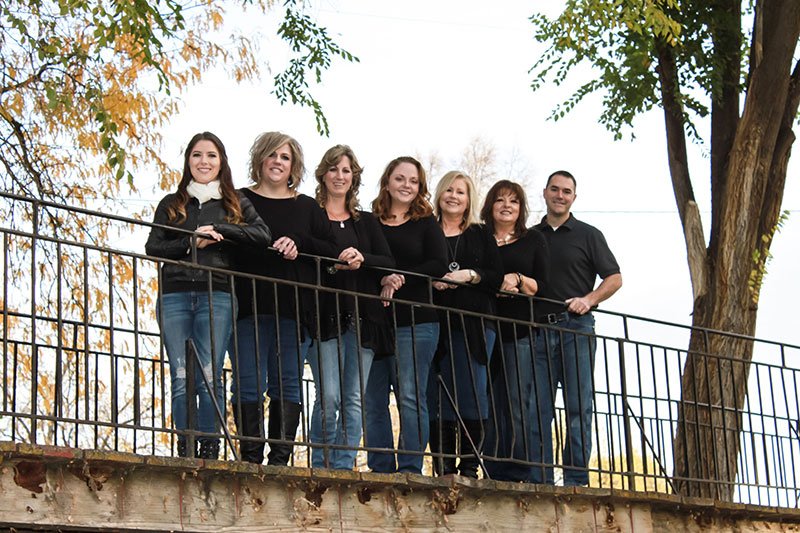 Our friendly dentist and team are excited to meet you! We are committed to providing high-quality dental care in a welcoming and comfortable environment, and do our best to help you feel at ease and provide you with everything your smile might needs. To schedule your appointment with Dr. James Moore and learn more about complete dentistry in Payette, Idaho, call Snake River Dental today at 208-642-4782. We look forward to helping you care for your smile!
--- Stephanie – Dental Assistant
Stephanie joined our team in 2016. She is a 2009 graduate of
Fruitland High School
and studied dental assisting at
Carrington College
. She is Dr. Moore's extra set of hands and eyes and takes care of the little things so he can focus on patient care. She loves the family atmosphere at Snake River Dental as we celebrate our accomplishments and enjoy talking and spending time together. She enjoys being part of a team where everyone works together to keep the office flowing and our patients happy.
Stephanie has been married to her fantastic husband since 2014 and together they have three amazing kids: Gideon, Gretchen and Abigail. With a houseful of kids, Stephanie doesn't have much time for many hobbies but she enjoys puzzles, reading, family outings and fun activity days.
If you are fearful when it comes to seeing the dentist or have been putting off getting treatment, Stephanie invites you to come to our office – we are kind and gentle and want to see you smile!
--- Lauri – Dental Assistant
Lauri joined Snake River Dental in 2014 with 29 years of experience as a dental assistant. Lauri is a people person. She loves meeting new people and making lasting relationships with each person who sits in her chair. He family likes to joke that she does not know a stranger! She loves the fact that we have built a practice of dedicated individuals who love what they do and it shows in our patient care. She appreciates working with such stellar individuals who make it a joy to come in to work every day.
Lauri and her wonderful husband Jeff have a daughter, Jennifer, a son Cole and a daughter-in-law Justin. They also have one granddaughter Kensley who they spoil endlessly. Away from the office Lauri looks forward to spending time with her family. You can find them camping, riding their side-by-sides or traveling to new locations.
--- Lacy – Front Office
Lacy has been with Snake River Dental for over 7 years. She loves working with such an outstanding team and amazing patients, and genuinely cares for each person she meets. Lacy has a degree in ranch management, and outside of the office enjoys riding horses, barrel racing and being with her family. She and her husband, Riley, have one son, Stace.
--- Pat – Office Staff
Pat grew up in the beautiful Willamette Valley and graduated from Weston Mennonite High School in Salem, OR. As a little girl she liked to play "secretary" and knew from a very young age that she wanted to be behind a desk and work with people. Working at Snake River Dental has more than fulfilled that childhood dream and she loves that fast pace and variety of tasks that come across her desk every day.
Pat's favorite part about working at Snake River Dental is welcoming and meeting people when they walk through the doors of our office. Pat realizes that not everyone is a fan of visiting the dentist and she wants to do the best she can to help them feel comfortable and make their visit to our office a positive experience. When a patient comes in feeling anxious and leaves smiling it makes Pat's day! Pat believes that being part of the team at Snake River Dental is second only to patient care. The relationships between the staff members is a major key to our success. She looks forward to seeing her coworkers every workday and the friendliness and warmth everyone has for one another sets the tone and atmosphere of the office. This is turn creates the same atmosphere of warmth and friendliness for our patients. Every day is a good day at Snake River Dental!
Dr. Moore has an excellent rapport with the patients and provides excellent dentistry. Pat would recommend him to anyone who is looking for a new dentist, especially anyone who has experienced dental phobia. Dr. Moore's bedside manner will make you feel at ease and he will take his time to explain things so you are comfortable. And who knows, you may even find yourself looking forward to your next visit to the dentist's office!
Pat met her husband Wayne in high school. They were married in 1982 and moved to the high desert in (VERY) rural Christmas Valley, OR, where they farmed alfalfa hay for 20 years. She loved life on the farm but not the 90 mile drive to Bend, OR for groceries, haircuts, banking or to see the dentist! 😀 In 2000 Pat and her husband began a new adventure when they purchased the Neat Retreat Manufactured Home Park in Fruitland, ID, sold their farm and moved to Idaho! Being married to an avid outdoorsman, Pat has enjoyed the activities that the state of Idaho provides. She enjoys camping and hanging out around the camp to keep the "campfires burning" while her husband hunts and fishes. When time allows she enjoys reading a good book, playing table games with friends and family, watching TV and visiting with people. She recently become a member of the Miss Western Idaho Board, which is a scholarship program for young women in Payette and Washington counties.
--- Connie – Registered Dental Hygienist
Connie was been with our practice for over 14 years and loves working with co-workers who are hard working, mutually respectful and just all around fun! She tries to establish a good rapport with her patients and convey how healthy oral hygiene can have such a huge impact on not just their teeth but health in general. She loves working with people in a healthcare setting and establishing a mutual relationship of care and trust.
Connie's daughter, Miranda, is pursuing an art education major at BSU and is in her final year. Her son, Logan, is a junior at Fruitland High School. She also has a miniature Schnauzer named Quincy! Connie's hobbies include crocheting, decorating, reading and Bible journaling.